There are affiliate links present in the posts on Love Peace Beauty! These links only mean that I receive a small commission in exchange for sharing an awesome product or service with you and that allows me to continue to run this site, free of charge so that we can keep hanging out!
The Best Outside Toys for Toddlers and Preschoolers
Try the best outside toys for toddlers and preschoolers!
Transform any outdoor space into an adventure-filled play area with outdoor toys. This selection is either on our wish list or toys we have experience with first hand. This selection will ignite imaginations and encourage kids to engage in healthy, active play.
Get your kids up and moving with these outside toys for toddlers and preschoolers.
The HugglePod HangOut is the perfect spot for your little snugglebug to read, play, and more. With a string of LED lights in the top, three porthole-style windows, a hook-and-loop flap door, and a plump removable cushion, it offers a cozy atmosphere that children love. Hang it anywhere with the Crescent Stand

This is a favorite around here – a peewee race car completely free of pedals, gears, and batteries! To propel it, your child simply turns the steering wheel back and forth. On a flat, smooth surface, it moves at an exhilarating but worry-free 6 mph. It holds at least 120 pounds, so it's no problem if big sibs take a spin.
Kids have energy to burn, and if they don't have some way of actually burning it, it's harder for them to concentrate or to get the constructive rest that they also require. As they work out their whole body, kids will develop better fitness, balance, and coordination. We use our trampoline both indoors and outdoors!
This wagon has molded-in high seat backs for extra comfort and there are two seat belts. The table surface also converts the wagon to a flat bed. This is a perfect ride for kids at those outdoor events! 
Hours of playtime await! In winter, spring, summer and fall, this Neat and Tidy Cottage is a super-fun play place! With realistic wood and stone architectural detailing and all kinds of other life-like features, your kids will have a blast playing here.
The Castle Top Mountain Climber by Step2 allows your little explorers to go on an alpine adventure!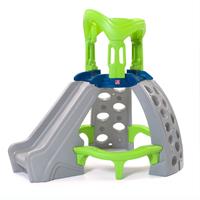 The Spill and Splash Water Table
provides hours of fun! Send swimmers for a deep sea dive off the diving board or send them for a ride on the swinging slide. Scoop water into the top tier and create a tidal wave of fun! Open area to inspire imaginative water play.
This little garden table won't disappoint! It's designed for individual or multiple child play – so perfect for siblings or play dates!
This bright green Froggy face ball will encourage everyone to hop into good times in your backyard or on the playground! Made of durable rubber, this ball is ideal for early catching and kicking games.
Rawr! Watch out, fun is coming through as the Intex Kids Inflatable Dinoland Play Center makes its way to your backyard this summer. This inflatable fun time features a small water slide with a soft landing pad, a wading pool to cool off in, a Dino Arch water sprayer, Dino Hoops, and a Volcanic Ball Roller game with 6 colorful included balls. Your little ones will have hours of refreshing, jurassic fun with 4 games in 1 play center.
This is the second summer we are purchasing this pool. We got a lot of use out of it last summer and at the end of the season, it had a small leak so we bought a new one this year. What I love about it, is that it's easy setup. Also, it is the "deepest" inflatable pool and I compared a bunch to find a pool with a bit of depth. This year, I'm thinking about not inflating the seat so my boys have more swimming space. I can promise there will be lots of photos on Instagram if you want to follow along.
The Intex® Whale Spray Pool provides shade under his tail and a cooling spray. There's a built-in sprayer that plugs into the standard garden hose. Perfect outside toy for fun in the sun! 
Each top pick has a recommended age but all toys are great for growing toddlers who love to touch, experience and explore. These are the best outside toys for toddlers and preschoolers!